Currently, the database provides information concerning 324 sequences, manually curated and predicted to encode superoxide reductase (SOR).

SOR genes were detected in the three kingdom of life, mostly in bacteria (270 genes) but also in archeae (51 genes) and more surprisingly in eukaryota (3 genes).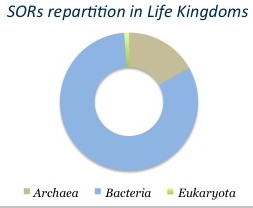 ---
SOR genes were predicted using a combination of sequences homologies (BlastP, BlastN) and regular expression detection in the 1237 complete and 1345 in draft "prokaryotic" genomes available in the NCBI (May, 2010) as well as in all "eucaryotic" genomes available. This search was completed using the "neighborought" option of the Img DOE interface

Among all the genomes screened, SOR were detected on 139 complete genomes and 131 in-draft and partially sequenced genomes
It was initially thought that SORs were restricted to anaerobic prokaryotes, but this is not the case :

They are also present in facultative microorganisms and there are at at least four examples of eukaryotic enzymes in fungi and protozoans.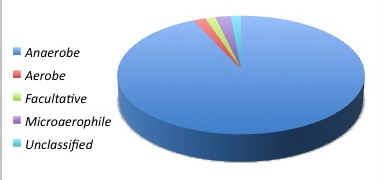 ---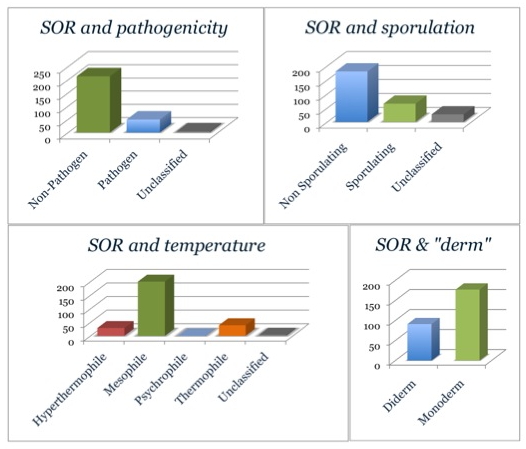 No clear relationships can be established between the presence of SOR genes in a genome and the phenotype of the corresponding organism.

SOR were detected in both pathogenic and non pathogenic organisms, in monoderm and diderm bacteria, with or without sporulating differentiation ability and in organisms living in different temperature ranges
---
The superoxide anion is one of the most deleterious reactive oxygen species. Consequently, organisms and especially unicellular species such as prokaryotes encode specialized detoxifying enzymes. Superoxide anions can be eliminated through its dismutation catalyzed by Fe- Cu- or Mn- dismutases (SOD) or by Ni-containing reductases (SOR)


---
SORGOdb covers 274 organisms. Of the 135 organisms with a complete genome sequence data, 57% are SOD-free whereas in ca. 30% encode both one SOR and one SOD in their genome.

The other genomes contain different combinations of multiple SOD genes (from 1 to 4 loci) and SOR genes (from 1 to 3 loci)
Home
Browse
Search
Results